Mining and land reclamation
Phytoremediation: cyanide WASTELAND revegetation and stabilisation
The Client: Perserverance Mining Pty. Ltd. thru Akzo Nobel sponsored research
The Location: The Fosterville Gold Mine, near Bendigo, Victoria, Australia
The Problem: An exhausted cyanide heap-leach-pad that has failed to support natural revegetation
The Solution: Phytoremediation using non-accumulator species with and without soil geochemical and microbiological amendments
Background
Heap leaching of gold ore with sodium cyanide is a globally common method of metal recovery.
Ore is deposited on a plastic pad, and then irrigated with cyanide for several weeks/months.
The solution runs off the underlying pad and is subjected to hydrometallurgical processing.
At some point the gold runs out, leaving a heap of saline waste rock, contaminated with bioavailable metals and residual cyanide breakdown products.
Very limited native vegetation has naturally colonised the exhausted pad at the Fosterville mine.
New approaches must be adopted to address the liability of cyanide heap-leach pads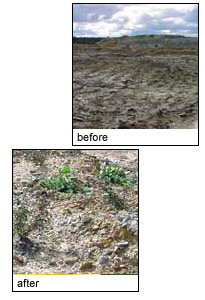 Phytomine's solution
Phytomine has addressed the growth limiting factors manifest within the leach pad.
Several small plots were inoculated with a biologically active fertiliser before specifically chosen salt-tolerant species were seeded and transplanted on site.
Plant growth has been dramatic on areas of biological treatment; no signs of toxicity or biomass limitation are apparent.
Plant growth in control plots where no biological activity was induced, however, exhibit signs of extreme phytotoxicity.
Phytomine's treatment is facilitating revegetation in this inhospitable environment.
Ongoing research will examine metal uptake, in particular induced gold uptake using thiocyanate-based chemical solutions.